The Collection of Leslie Waddington, the pioneering art dealer who anticipated the rise of contemporary art, is to be offered as a highlight of Frieze Week in London 
'One of the most influential art dealers in modern times' 
The Collection of Leslie Waddington will be offered for sale as a single-owner auction at Christie's, London during Frieze week in October 2016. A celebration of some of the artists he most admired, the sale will feature works from his personal collection, assembled over many years. It includes pieces by 20th-century icons Josef Albers, Alexander Calder, Milton Avery, Agnes Martin, Francis Picabia and Jean Dubuffet, as well as works by many of the contemporary artists he represented, and with whom he developed enduring friendships.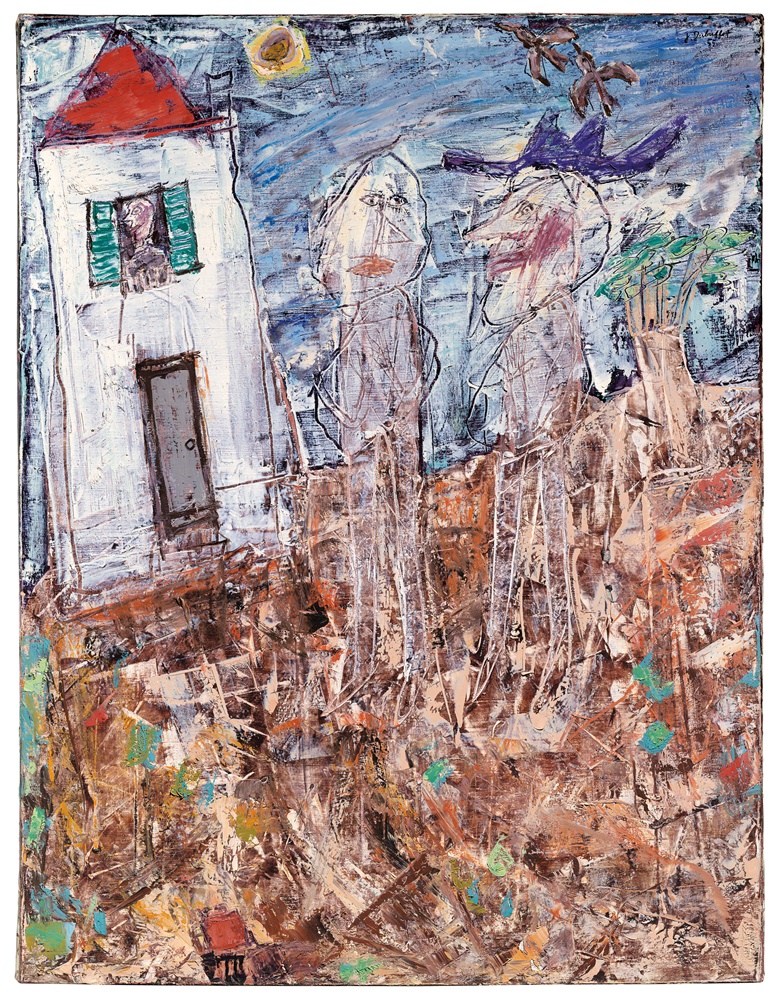 Jean Dubuffet (1901-1985), Visiteur au chapeau bleu (Visitor with Blue Hat), 1955. Oil on canvas. 45⅜ x 35⅛ in (115.2 x 89.2 cm). Estimate: £2,000,000-3,000,000
Born in Dublin in 1934, Leslie Waddington was the son of gallery owner Victor Waddington and his wife, Zelda. An avid reader and bibliophile, he first studied at the Portora Royal School, whose alumni included Oscar Wilde and Samuel Beckett. In the early 1950s Waddington attended university in Paris, where he studied the history of art and archaeology at the Sorbonne and the École du Louvre. 
Waddington, who passed away on 30 November 2015, was instrumental in building the collections of the colourful Tory treasurer Lord Alistair McAlpine (1942-2014) and the collector, patron and radio engineer E. J. Power (1899-1993) among many others. Lord McAlpine was helped by Waddington to form a major modern sculpture collection that he gifted to the Tate in 1971.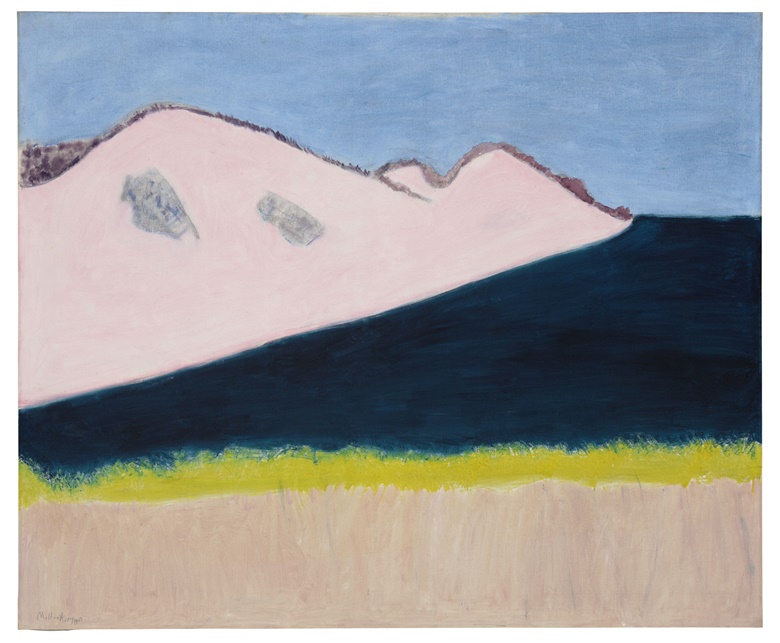 Milton Avery (1885-1965), Dark Inlet, 1963. Oil on canvas. 49½ x 59⅞ in (125.8 x 152 cm). Estimate: £900,000-1,500,000
In the late 1950s Victor Waddington returned to London, where he opened a gallery on Cork Street. Accompanying him was the 24-year-old Leslie, who would soon become a director at his father's business. In 1966 he opened his own space, Waddington Galleries, alongside business partner Lord Alexander Bernstein. Waddington Galleries grew swiftly and by the late 1980s Cork Street was home to five Waddington spaces.
Highlights of Waddington's collection include Francis Picabia's Lampe, 1923. Formerly in the collection of Jacques Doucet, it is one of a series of paintings Picabia made between 1921 and 1923 in which the ancient ideal of classical beauty is combined with geometric abstraction, and it is housed within its original Pierre Legrain frame. Another standout work is Agnes Martin's Praise, 1985, an elegant example of the artist's use of a visual vocabulary to evoke pure, meditative states of mind. 
Leslie Waddington served as chairman of the Modern Painting and Pictures sections of The European Fine Art Fair. In 2003, he was one of the first dealers to participate in London's influential Frieze Art Fair. In 2013, Nicholas Serota presented him with the Federation of European Art Galleries Award in Basel, lauding Waddington as an individual 'without equal in the profession'.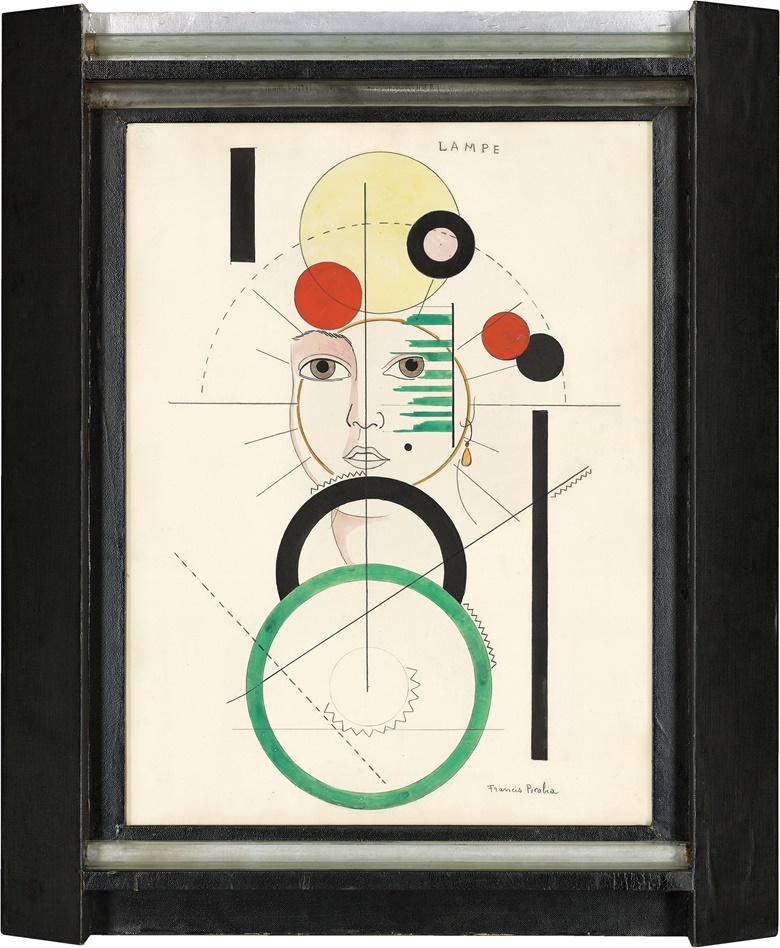 Francis Picabia (1879-1953), Lampe, circa 1923. Watercolour, brush and India Ink and pencil on paper. 24¾ x 18⅝ in (63 x 47.2 cm). Estimate: £800,000-1,500,000
A centrepiece of the collection is Jean Dubuffet's Visiteur au chapeau bleu (Visitor with Blue Hat), 1955, one of the raw, highly textured canvases that Dubuffet produced during the first few months of his six-year sojourn in the south of France. 
'It is a privilege to be offering works from the private collection of Leslie Waddington here at Christie's in October,' said Jussi Pylkkänen, Global President, Christie's. 'Leslie was generous with his advice to the younger generation and many people in the London art world, including myself, benefited from his wisdom over the years.'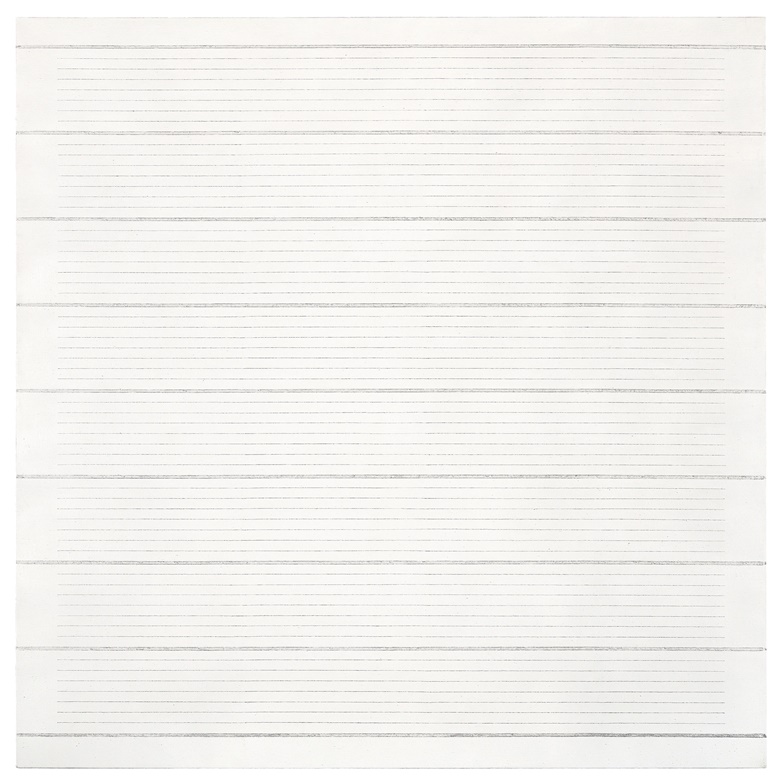 Agnes Martin (1912-2004), Praise, 1985. Acrylic and pencil on canvas. 72 x 72 in (183 x 183 cm). Estimate: £2,000,000-3,000,000
Waddington was a pioneering art dealer who presented a groundbreaking exhibition programme and fostered creative relationships with artists. He brought a range of Modern, Post-War and Contemporary names to the attention of international audiences and defined the London art landscape long before the rise in popularity of the contemporary art world today.
From his arrival in London in 1957, Leslie Waddington rose to become one of the most influential fine art dealers in modern times. Witty, erudite and principled, he spent more than half a century promoting the work of artists ranging from the St Ives School to American Abstract Expressionists, as well as Picasso, Matisse and the Pop artists. He strove to exhibit art that, in his view, spoke 'against parochialism and limitation'. 
Another focal point of the collection is Alexander Calder's Le Serpent Rouge (The Red Snake), 1958. Spanning two metres, the mobile presents a cascade of red, blue and black biomorphic forms, emerging from the wall with serpentine movement. The work stems from a critical period in Calder's career, during which a number of prestigious large-scale commissions propelled him to international acclaim.
'The pages of Vogue magazine from November 1986 display Leslie and Clodagh Waddington's London home as it was shortly after their wedding,' reveals Katharine Arnold, Specialist Head of Evening Sale. 'The pages show many of these art works installed in the same positions they occupied for nearly 30 years.'
Featuring work by 23 artists, the auction will be a highlight of Christie's programme during Frieze week. It takes place on Tuesday 4 October, and is available for preview at Christie's King Street (24 September to 4 October) with highlights at New York Rockefeller Center (9-12 September). A Part II day auction will take place on Tuesday 22 November to coincide with Christie's Modern British & Irish Art  auctions. 
from Christie's.com auction preview